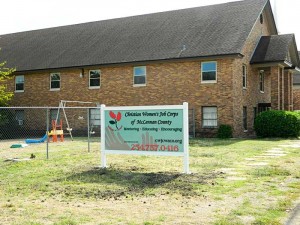 Look for CWJC on Memorial Drive between Valley Mills and New Road.

Moving day was August 23, 2012. We have phone service and Internet at the new location. We will be ready for classes to begin on August 29.
Because Methodist Children's Home is expanding, they are in need of the building we currently lease on their campus. This is resulting in changes for us.
Help us recondition our new facility for the journey of changing future generations.
$50 – Secure rooms and offices with a locked door(11 locked doors needed)
$75 – Provide paint for a room (6 rooms to be painted)
$200 – Light a room with overhead fixtures (6 rooms need lights)
$300 – Reduce monthly electricity costs with a double-pane window (26 windows)
$7,000 – Electrical updates needed for computer lab and air conditioning unit
$18,000 – Cool the facility with purchase and installation of air conditioning unit
(No contribution is too small or too large.)
Financial Goal: $35,000.00
Financial Goal Date: July 18th
With your donation, you will become a permanent fixture in the new location for Christian Women's Job Corps. Your name will be included on a Wall of Recognition in the building.
Our new physical address will be 4112 Memorial Drive, Waco, Texas.
Options for Donations:
(Please indicate that your donation is for renovations and repairs at the new location.)
Send a check to:
CWJC
P. O. Box 20432
Waco, TX 76702
Donate Online
This link is specifically for donations to our new building renovation.
Donate by phone:
Call the CWJC Center at 254-757-0416
You will receive a printed receipt. All donations to Christian Women's Job Corps are tax deductible. CWJC is a 501(c)3 non-profit organization.