Our 2012 Alumni Council members are: Renea Cox, Laurie Anne Tuttle, Kokoa Mason and Linda Woitaszewski.
The Alumni Council will assist the Alumni Coordinator, Betty Orler, in planning the monthly alumni meetings, the summer alumni retreat, and volunteer opportunities in the community.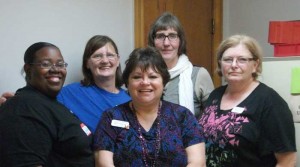 Waco Foundation awarded CWJC a grant for the alumni program. Part of those funds were designated for the alumni coordinator to receive some leadership training. Betty Orler, Alumni Coordinator, attended a leadership seminar in Fort Worth on April 19.